Aqua zemin was established in 2011 in Istanbul as a multidisciplinary decoration company
Our Goal
Since 2016; Our goal is to achieve success by combining all our experience and energy with the technology of the future, the new generation indoor and outdoor colored nano-coated stone carpet floor covering application, with the quality service we will provide to our valued customers.
İnnovative
Our products are innovative. They encourage our customers to create unique environments .
Ecological
We design sustainable floors from production to application. This way, we help our clients to live in the best living spaces.
Reliable
We follow an efficient process during our production which is 100% suitable for EU standards.
Vision
We not only support our customers during the application, but always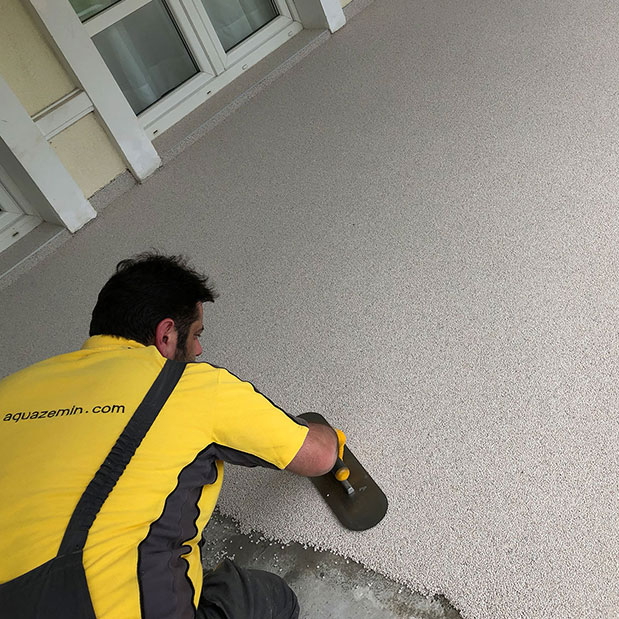 Mission
We closely follow the developments in the flooring sector and offer the most suitable solutions for the demands. We aim to be a leading company in the sector with our satisfaction-oriented and trust-indexed working model.
Best Manufacturer Of Europe And Middle East
Feel Different
Examine Our products and application
We are constantly improving ourselves with the experience we have gained over many years. Be sure to review our applications and references.
The network that is expanding step by step since the day we created
Opening
We met Aquazemin while we were looking for the floor covering of our pharmaceutical warehouse in Mecidiyeköy. We felt that they have a very knowledgeable team of experts in their work and we entrusted our floor covering business to Aquazemine. They always followed meticulously from the beginning to the end of the work. We were very satisfied. Thanks
Mr. Bülent
Özsel Ecza Deposu
We called Aquazemin company to build our production place as floor covering. From the first moment to the delivery, they are kind and professional in their work. We were very satisfied. Aquazemin is a company that we can happily contact again if we have our next works.
Mr. Azmi
Zorlu Yemek
We met with Aquazemin for the parking lot flooring of our business center. Good product choices and good guidance impressed us a lot. It was also a nice delicacy that they made road lines wall paints as a gift. Thank you Aquazemin
Mr. Mehmet
Kısıklı İş merkezi