Application
Stone carpet is very popular for interiors because it makes you feel comfortable. Offices, stores, showrooms are also other popular application areas.
Chemicals
We always choose chemicals that are environmentally friendly and healthy.
Colors
Geniş renk seçeneği ile iç ve dış mekanlarınıza kusursuz uyum sağlar.
INTERIOR
Stone carpet is a flooring system that has become popular in interiors recently. If you are looking for an innovative and decorative floor covering, the stone carpet will answer your demand
EXTERIOR
In an outdoor application that is exposed to sunlight, a Stone Carpet must be made that is resistant to UV rays. European standards calibrated between 1-3mm , 2-4mm , 3-4mm...
Stone Carpet Application Areas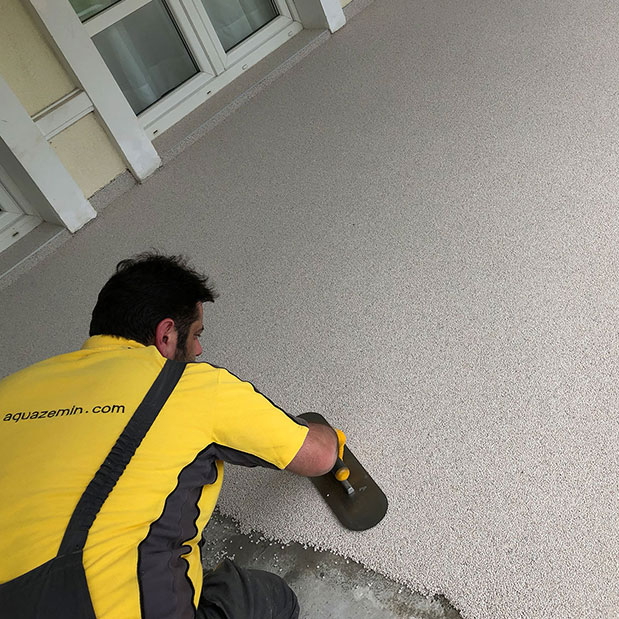 Aquazemin was established in 2011 in Istanbul as a multidisciplinary decoration company. Since 2016; Our goal is to achieve success by combining all our experience and energy with the technology of the future, the new generation indoor and outdoor colored nano-coated stone carpet floor covering application, with the quality service we will provide to our valued customers.
You can follow all the innovations about Stone Carpet applied with the new generation technology here.
Our projects are the reflection of our success
We, like Aquazemin, are very happy to finish more than 500 projects, and we want to continue with the proud of being able to have the references of our projects to our customers.
Contact
How can we help you ?
We Are Here To Help You. You can consult us for all your questions / problems.
General Center Address:
Bulgurlu Mah. Libadiye Cad. No:7-D Üsküdar İSTANBUL
International Call : +90 534 814 10 24
+90 216 317 1819
+90 535 047 2990